Search found 149 matches
Fri May 03, 2019 7:42 pm
Forum: Bluebird Rebuild
Topic: Bluebird Runs 2019
Replies: 91
Views: 24420
Am I allowed to post this link? to a petition? to try & illustrate the popularity of the old girl? https://www.change.org/p/ruskin-museum-coniston-should-bill-smith-be-allowed-to-run-bluebird-this-summer?recruiter=false&utm_source=share_petition&utm_medium=twitter&utm_campaign=psf_combo_share_initia...
Thu Apr 11, 2019 11:06 pm
Forum: Bluebird Rebuild
Replies: 1026
Views: 391796
(As an aside to other topics at the moment) We spent last weekend participating in a Motorcycle sprint, up the driveaway of Hoghton Tower. A grand time was had by all, apart from,maybe, the chap that fell off his BMW! (he was uninjured, as far as we are aware) There was a fair array of bikes, old & ...
Wed Apr 10, 2019 8:52 am
Forum: Bluebird Rebuild
Replies: 1086
Views: 419990
Looking like there will be no Records Week this year -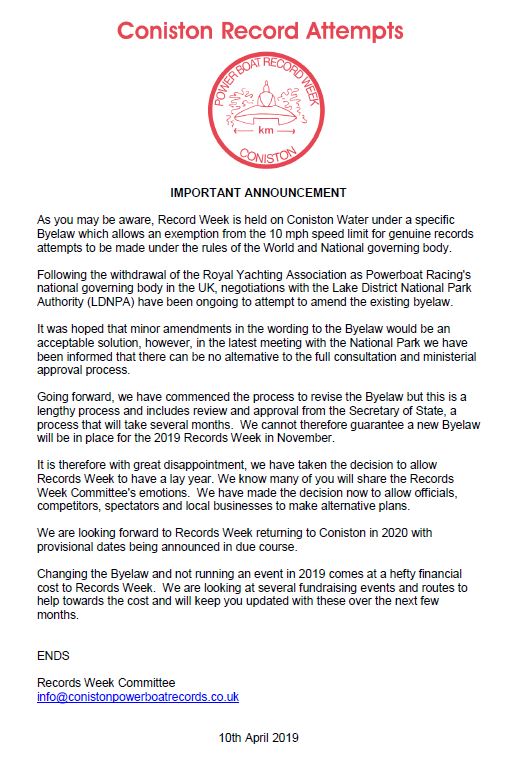 Tue Apr 02, 2019 10:21 pm
Forum: Bluebird Rebuild
Topic: Bluebird Runs 2019
Replies: 91
Views: 24420
Great stuff! Well done everybody!

Yes please! back on water, any water, be nice if if it was Coniston though (it's only half an hour away from me!!)
Thu Feb 21, 2019 8:27 am
Forum: Bluebird Rebuild
Replies: 624
Views: 150120
In my opinion I cannot see how the 10 trustees of the Ruskin could let "the old girl" sit idle for ever. If they did, unfortunately, I feel, no matter what we think, interest will wain over the years. However, given 3 months a year, to "perform" "function" "display", or whatever you would like to ca...
Wed Jan 02, 2019 5:15 pm
Forum: Bluebird Rebuild
Topic: Classic Boat Awards 2019
Replies: 3
Views: 2080
Job done!
Didn't know she was built by "Shamlesbury Engineering" though!