Ment to ask last time what turbine have you in boat and fuel tank size ? I've added a few pics of my build it's coming along now still looks battered but getting there.
You do not have the required permissions to view the files attached to this post.
Last edited by
K7boats
on Sun Jun 10, 2018 7:19 pm, edited 1 time in total.
---
---
Posts: 87
Joined: Tue Nov 15, 2016 2:37 pm
This looks like the right place.....
I have an unbuilt, 'as new' Speedline 1/24th scale K7 kit. Looking for advice or suggestions.
I bought it many years ago, not quite realising what sort of kit it was
Hmmm... And the reports on this thread only confirm what I thought - it isnt the greatest kit....
So, what to do.... Rather than just leave it on a shelf in my garage. Much as I would love a K7 model, I don't think this is the one, for me (sorry, Speedline...)
Would anyone on here be interested in taking it on...? Or... shall I just 'bin it', as a mistake....?
Thanks...
---
Don't bin it, chuck it on ebay[.]
Cheers
Wayne


.
---
---
Posts: 87
Joined: Tue Nov 15, 2016 2:37 pm
---
It really makes no sense why they sell so well on eBay, I even considered buying some from Speedline to resell
https://www.ebay.co.uk/itm/SPEEDLINE-MO ... 2294500358
https://www.ebay.co.uk/itm/SPEEDLINE-MO ... 2854334614
Cheers
Mick
---
Posts: 87
Joined: Tue Nov 15, 2016 2:37 pm
Wow...
Gotta love eBay, sometimes. Makes zero sense, but ....
Assuming I succeed, in selling mine, I think the proceeds should be fed back into the BBP somewhow....
(Would pay for a few trips up to Bills, place, I think.)
Thanks,
IanM
---
Posts: 4825
Joined: Mon Dec 01, 2008 12:29 pm
Location: N E England
Contact:
I have one of those models too - someone gave it to me years ago but I'm not one for making models. I'll sculpt from scratch or tinker on with the real thing but model kits just aren't my thing so if anyone wants it just say.
I'm only a plumber from Cannock...

"As to reward, my profession is its own reward;" Sherlock Holmes.

I have wrought my simple plan
If I give one hour of joy
To the boy who's half a man,
Or the man who's half a boy.

Sir Arthur Conan Doyle.
---
Dashboard now completed for my 1:5 scale model. Could not quite get it all to line up as well as I would have liked, but does not look bad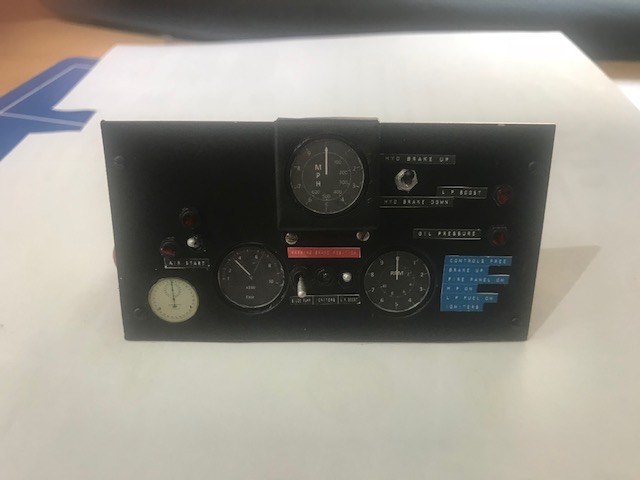 ---