Posts: 37
Joined: Thu Oct 01, 2009 9:58 pm
In just under 10 minutes time I'll be proposing a toast (coffee only unfortunately) to the great man himself. RIP Mr D.C, and let us never forget you.
Looks like one of those new 'Japanese' sportscars..............
---
RIP Donald Malcolm Campbell,
Commander of the Order of the British Empire
.
---
---
Posts: 5004
Joined: Mon Dec 01, 2008 12:29 pm
Location: N E England
Contact:
Aye... I was born in 67 - stop reminding me!
I'm only a plumber from Cannock...

"As to reward, my profession is its own reward;" Sherlock Holmes.

'Sometimes you gotta be an S.O.B if you wanna make a dream reality' Mark Knopfler
---
Posts: 510
Joined: Sat Dec 06, 2008 10:03 am
Location: Chiswick, West London and Penrith, Cumbria.

Remember ... Always ... 08:48 - January 4 1967... Legend...
DMC and K7 at about 280 mph on the penultimate run, after the 297.6 mph, 7.517 second dash south through the measured kilometre on Coniston Water... Full House!
You do not have the required permissions to view the files attached to this post.
'When you go down into the arena, you know that sometimes, you're likely to get your nose punched. You do it with your eyes open. You take the risks'
Donald Campbell, Bluebird and The Final Record Attempt.
https://www.facebook.com/bluebirdk7/
---
I held my own 3 minutes silence the morning RIP Donald
---
Posts: 701
Joined: Thu Sep 24, 2009 11:19 pm
Its been along windy torrential day up here in Coniston. However this did not deter me from heading down to the lakeside at 08.47am to stand in gales and rain paying my respects to the Donald. Only the water lapping around my feet whilst stood on the jetty interrupted my 4 minute silence as I stood alone and looked out across the lake. I closed my eyes and tried to imagine what it must have been like on that day 45yrs ago today especially with it falling on the very same day of the week a Wednesday. At 08.51am I stood down from my four minute silence and contemplated for a few moments how D.C must have felt having set a 7.525 sec 1st run through the kilo traps and in doing so achieving the average speed of 297.28 m.p.h. " Full House, Full House that's Three" He was so close to achieving his goal and urgently sought his speed then headed North back up the lake reaching a peak speed of 328 m.p.h before tragedy intervened and robbed him of his goal of being the first man to exceed 300 m.p.h on water. So close yet so far a brave man indeed who's name will live on in History especially once his iconic craft is conservered in his honour by a bunch of splendid chaps and chapss's
One thing is certain he would not have made that run had it been like it has been today weather wise. The lake is very high indeed and in danger of flooding again. The lads from the boat shed are on red alert as water has entered the boat yard and is probably in the boat house by now as it was only inches away at 9pm but it continues to lash down as I type. Anybody attending the speed record club event this weekend in Coniston is advised to bring their Wellingtons
Novie
"I've Gone"
"Never ride faster than your Angel can fly"
---
Posts: 50
Joined: Thu Sep 29, 2011 12:30 pm
Location: Lake District
I wasn't sure whether to post this article or not, but I think for the people who aren't local and won't get chance to see it I thought I would.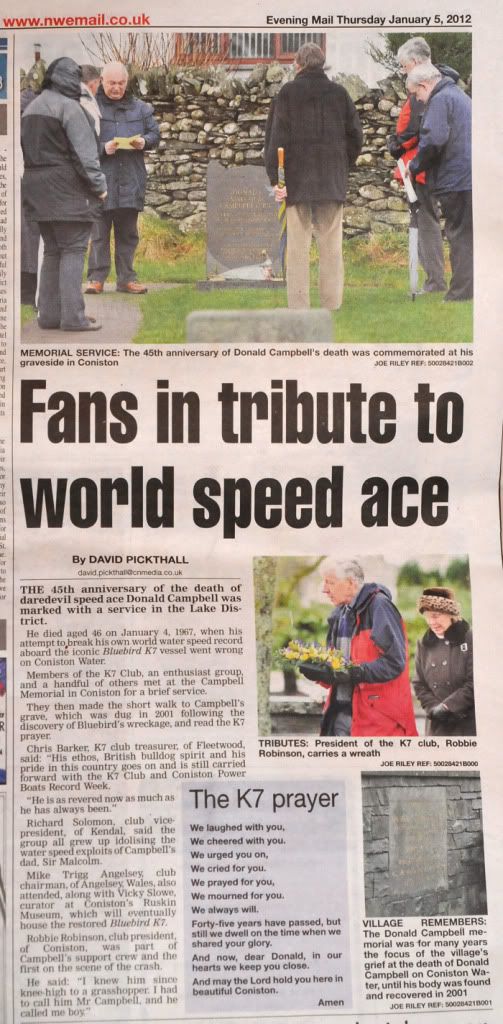 With the greatest respect DMC.
---
The 4th of jan is never forgotten and it is also my brother Terry's birthday and he was 12 on the day donald perished and i was only 3
---
Digitaljunior wrote:I wasn't sure whether to post this article or not, but I think for the people who aren't local and won't get chance to see it I thought I would.

With the greatest respect DMC.
thanks for posting , i live about 350 miles away so would never have seen
---